2 april 2019
Reading time 2 minutes
Kalmar Ottawa dealer meeting celebrates a record year in terminal tractor sales
Every year Kalmar gathers its dedicated North American dealer network to reinforce and continue developing the beneficial partnership together. This year's Kalmar Ottawa Dealer Meeting celebrated a year of success. Altogether 45 dealers joined in the event to discuss the plans for 2019: "Together we can shape the industry".
Doug Queen, Solution Sales, Kalmar says "We are truly fortunate to have this dealer network, and the results speak for themselves - we reached 70,000 tractors built earlier this year and that could never have happened without our dedicated dealers. 2018 was a record year for us, we received significant orders and increased our rental business. Looking ahead we are all excited to continue the journey towards new goals and to set benchmarks in our industry"
Thomas Malmborg, SVP Services, Kalmar continues "We have every reason to be proud of our results in the North American market during 2018 and believe that 2019 will be another successful year. We have a strong and prosperous partnership in place with our dealer network combined with strong mobile solutions and a truly customer-centric Kalmar team. Kalmar wants to become a service-driven solutions provider, and I'm confident that together with our dedicated dealers, we will be able to shape the industry."
The dealer meeting's purpose is to create a two-way communication and to make sure we improve ourselves based on the customer needs of today and tomorrow. During the meeting guest speakers such as Bob Costello, Chief Economist & Senior VP of International Trade Policy and Cross-Border Operations, American Trucking Association (ATA) and Jim Carroll, International Futurist, Trends and Innovation Expert shared their expertise within the future economic analyses of the trucking industry and how to transform growth-oriented organisations into high velocity innovation heroes.
Coastal Industrial Equipment recognised as Premier Partner
The highlight of the event, besides having the opportunity to spend good time together, was the Awards Banquet where very successful dealers were honored with well-deserved awards and recognition. Coastal Industrial Equipment was one of the recognized winners who was honored as a Premier Partner.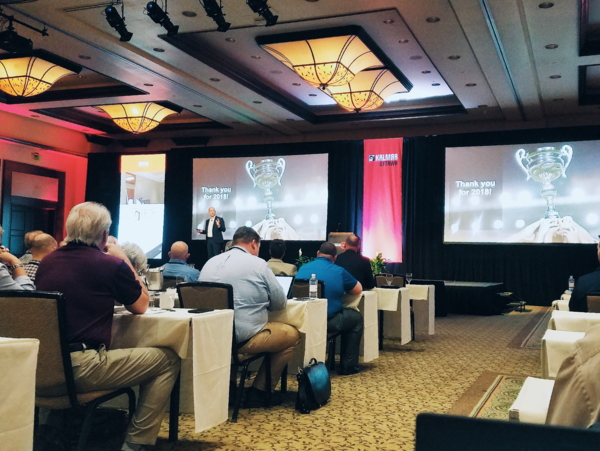 Denny Ross, President of Coastal Industrial Equipment, Kalmar Ottawa Dealer in Jacksonville, FL, and Chairman of the Kalmar Ottawa Dealer Council says:
"I look forward to the Kalmar Ottawa Dealer Meetings, it provides us fellow dealers and Kalmar executives the opportunity to spend time getting caught up and sharing new ideas with each other. We all enjoy the awards ceremony to celebrate the previous year's mutual accomplishments and recognize the top performers. For me, the most exciting Dealer Meeting presentations are the new solutions that will take our brand and dealer groups to the next level in the new year. It is reassuring to know that the Kalmar Ottawa division is part of a global manufacturer that provides resources to engineer innovative solutions to keep us ahead of the competition. This position gives our dealer network the confidence to invest in our rental- & lease fleets and expand our customer service capabilities through facility growth"
Gina Lopez, VP Terminal Tractors, Kalmar, concludes " As always, this event is an excellent opportunity to interface with our best in class Dealer Network. This year we were able to demonstrate how we are evolving from an organisation that has always delivered market-leading products to a service driven solution provider who is adopting future technologies and eco-efficient offerings.